Our Mission & Vision
Our vision and mission
Our vision and mission is to help connect people to faith and take the Gospel of Jesus Christ to all generations and gentiles including downtrodden, backward, slum and agency areas. We encourage people in the church to develop their faith and make them walk like Jesus Christ, all the time.
Our aim at Sharon church is to glorify God by engaging the church to go on streets with a good news of Jesus Christ. Our Vision is to reach an unreached people and to show Gods love and His sacrifice for our sins. Sharon Ministries focuses on taking the good news to every remote, under-developed, inaccessible and unreached places in India and practically demonstrate the Love and Miracle working Power of our Lord and Saviour Jesus Christ
New to Church
If you are new to Sharon Church, we welcome you to join our family and will show the Gods' one and only love & this is the place where you will hear a life changing messages. Our services are likely with a lovely songs and music where you meet with the Lord the Only Saviour Jesus Christ.
Everyone is welcome at Sharon Church, regardless of what you believe, where you're at, or how you feel. Looking forward to see you and assuring you of a very warm welcome.
Gospel Outreach Ministries
Our Beliefs & Values
We believe in the Trinity who exists in three separate and distinct persons – God the Father, God the Son, and God the Holy Spirit and these are one God, sovereign in creation, providence and redemption. 
We also believe that the church is the hope of the world and we make the gentiles to encounter with gods power and about his holiness. Therefore we want to see all groups (all ages) of people to accept Jesus Christ as there personal Saviour.
"Those who hope in the Lord will renew their strength. They will soar on wings like eagles; they will run and not grow weary, they will walk and not be faint."
– Bible
Who We Are
Our Team & Leadership
Sharon Church was born in courage and in faith in 1994 by a John Mark B (who is Founder & Director of Sharon Church and Ministries). First they met in a home with his wife and children, as time passed by and it became a small group. Even though they are modest in the number they never lost their faith but served God in Spirit and Truth. 15 years later the pioneering spirit energises a church which currently has 500 adults in regular attendance and saved around more than 3000 souls for the God's Kingdom. The history of Sharon church is filled with great faith, excitement and evangelism.
Now, we are a large Pentecostal Church in the heart of Vizianagaram city, South India. Many adults were converted from different backgrounds like Hindus, Muslims and various other religions. Our Church is dedicated to serve and proclaim the God's Gospel in the city as well as to an unreached people including agency areas, downtrodden places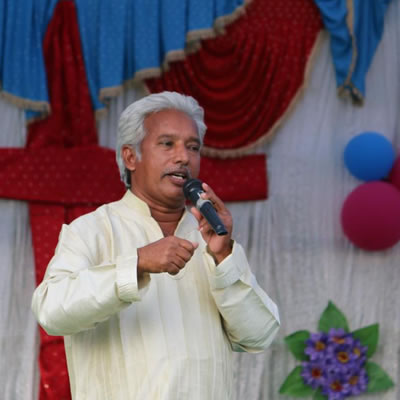 Pastor. Rev. John Mark B.
Founder and Director
Sharon Church & Ministries, School and College